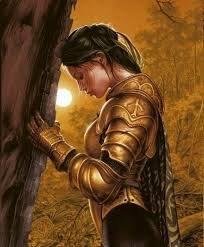 I just watched "War Room" which is a brilliant movie by the Kendrick brothers about the power of fighting our battles in prayer. For years it seems prayer has been seen as a way of "rubbing the bottle" hoping the "genie" would appear and grant our wishes! But prayer is the way that God communicates with us. It is how we are to fight the enemy who is not flesh and blood, but spirit.
When we are in DIALOGUE with God, we can tell Him what's on our heart and He can show us the way to conquer the enemies in our life. When we talk to God about the people we are having problems with, instead of talking about them to others, God can change our heart and give us love and forgiveness for them.
If we are going to live a powerful Christian life, it has to come out of a vibrant relationship with God. That comes from praying and spending time with Him like we would the most significant person in our lives. This is so important to God that He is getting the message out any way He can – even through the movies!
God let's us know what He wants if we have ears to hear.  Prayer is so much on God's heart right now that He has been stirring pastors to learn and teach more about prayer. Home groups are studying prayer and prayer groups are springing up.
What do you need to do to deepen your prayer life?
Here are some suggestions that might help you take a next step:
1. See "War Room" for a good example of what a successful prayer life looks like.
2. Write down your prayer requests. Document the answers in a prayer journal. This will encourage you as you see that God really does answer prayer.
3. Find a place that can be your "prayer closet" where you won't be distracted, and go there to meet with God on a regular basis.
4. Tell God the things that are on your heart, but listen for what is on His heart too. Write it all down.
5. Find a prayer partner who can pray with you and encourage you.
6. Find someone who will mentor you in prayer.
7. Find someone that you can mentor in prayer. You just need to be one step ahead of someone else to be a mentor, as long as you keep growing.